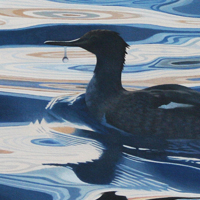 My painting, Curación, has been honored by its inclusion in the upcoming Society of Animal Artist 58th Annual Exhibition later in St. Petersburg, Florida, July 28-October 23, 2018. Curación is a prayer for the healing and the awakening of humankind. Watching the perpetually rippling water on a tranquil day at the wetlands is a form of meditation for me. The endless movement, the constantly changing reflections of light and atmosphere, the eons-old interactions between the birds and all the aquatic life that depend on the coastal wetland, remind me, in spite of the deafening noise of our collective egos, of the infinitesimal role humankind plays in Earth's history.
Place de la Concorde Magpies selected for inclusion in the California Watercolor Association's 47th Annual National Exhibition, Harrington Gallery, Pleasanton, California, January 14 - February 15, 2017
Shine selected for inclusion in Wildscapes, The Bennington Center for the Arts, Bennington, Vermont, June - August, 2016.
Banquet selected for inclusion in the Society of Animal Artist 56th Annnual Exhibition, Houston Museum of Natural Science, Houston Texas, September - December, 2016.
Amigos de Bolsa Chica Volunteer Appreciation Picnic, May 31, 2015
A Resolution from the California State Assembly, courtesy of Assemblyman Travis Allen, 72nd Assembly District: for my many years of contributions to environmental preservation in California through my volunteer service with Amigos de Bolsa Chicaon June 29, 2014.
Doheny State Beach Visitor Center Mural Project ("Watershed" triptych) opened April 11, 2014.
2013 Independent Publisher Book Awards, Category of Children's Interactive Books, Bronze award for "Amigos de Bolsa Chica: Coastal Wetlander Activity Book," Edited by Thomas Anderson.